Oval Cut Green Emerald and Diamond Dangle Birthstone Earrings - 6.45 Carat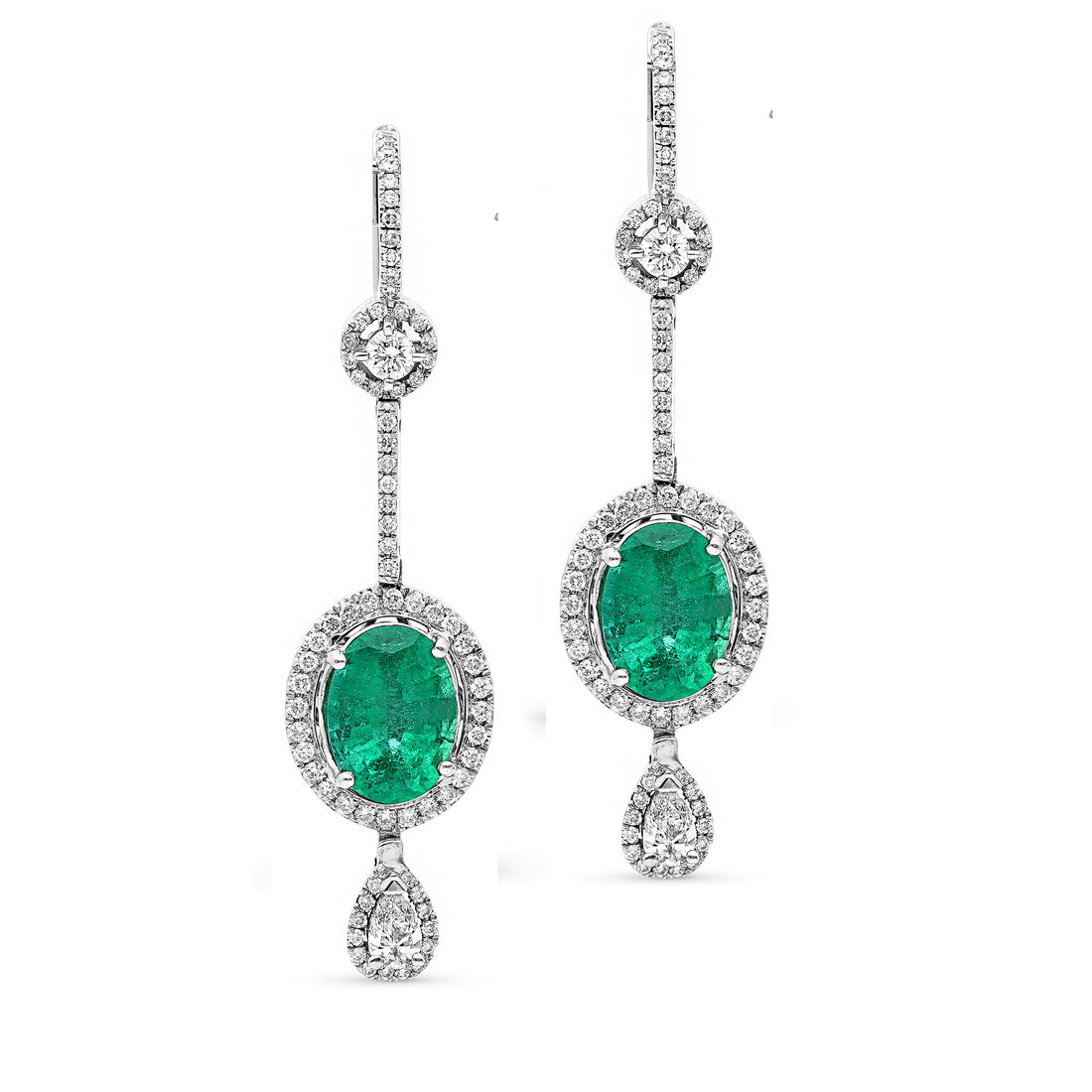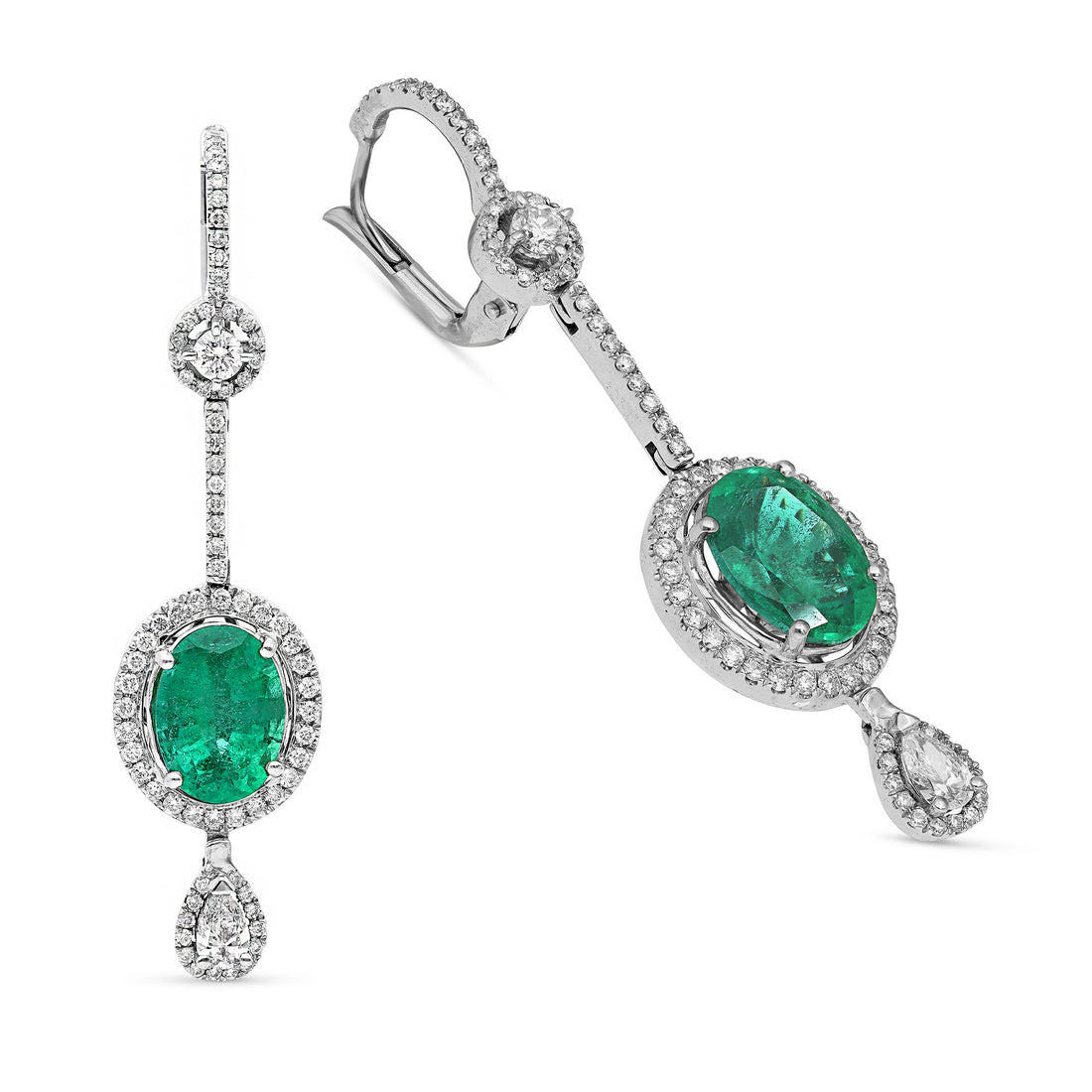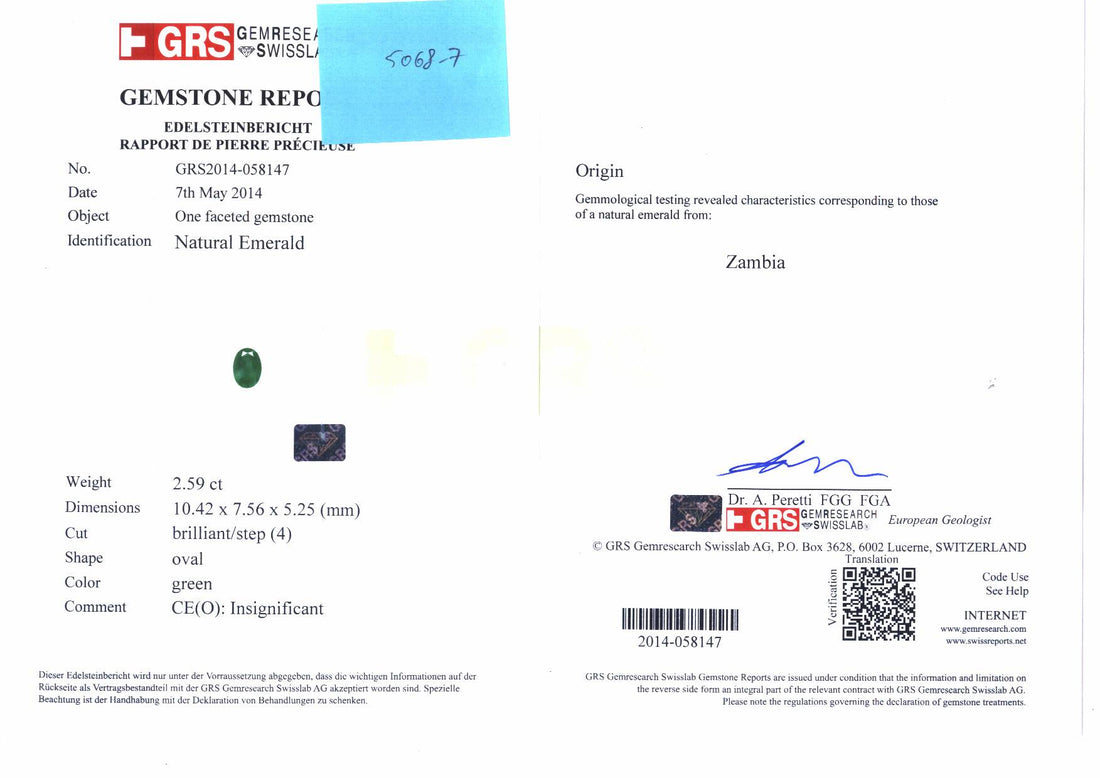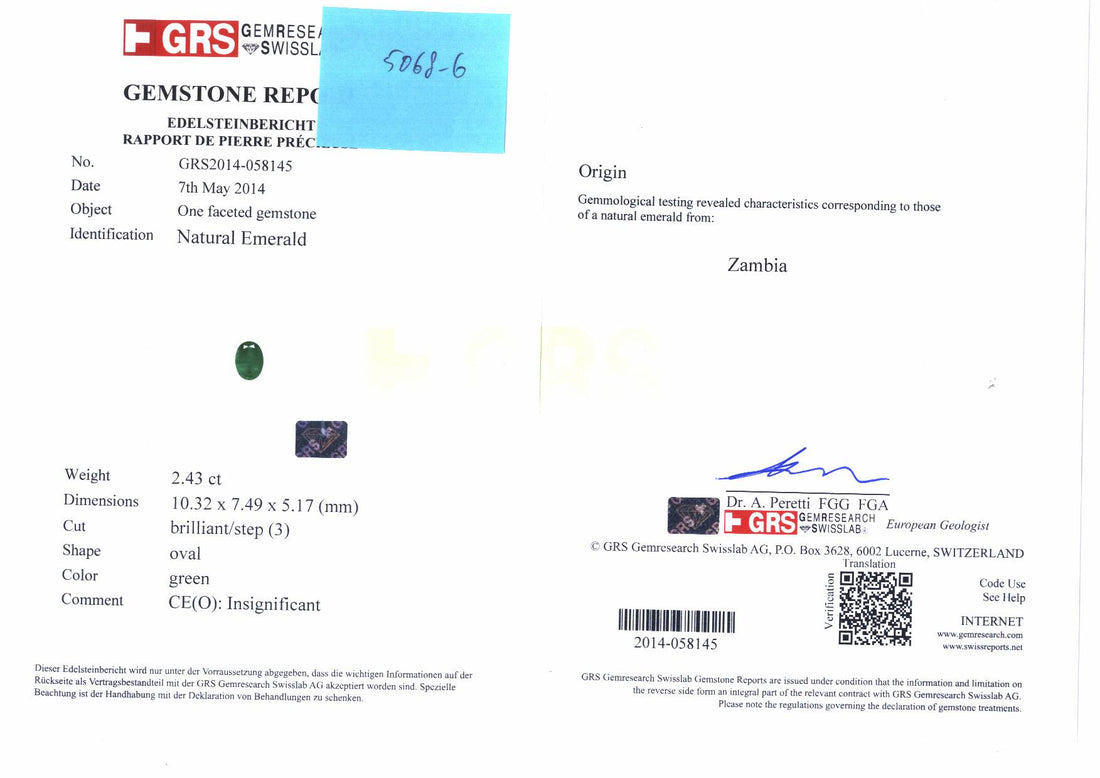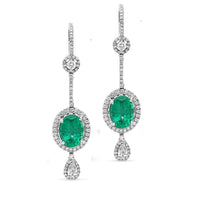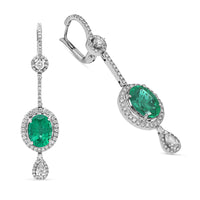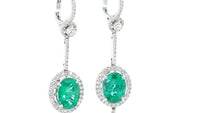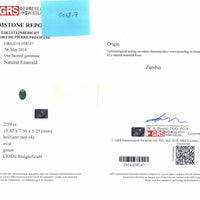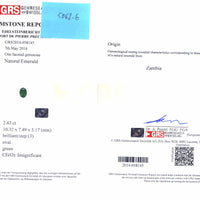 Oval Cut Green Emerald and Diamond Dangle Birthstone Earrings - 6.45 Carat
These luxurious emerald dangling English Lock earrings, resembles royalty. Elegant and stylish, these emerald earrings are set in 18K white gold, and are adorned with two oval shaped green emeralds , nestled in a pave halo, as the center stones. The green from the emeralds, are complemented by the array of white diamonds emebedded along the dangle holding the emerald to the sparkling round cut white diamond, which is ensconed in a pave halo, at the base of the English Lock. The elegant finishing touch, is the pear cut white diamonds, hanging from beaneath the emeralds, adding to the delicate design of this piece. These earrings are sure to be loved by all who see them, and make for a beautiful gift.
We are happy to answer any of your questions! Contact us!
EARINGS INFORMATION

Metal
18K White Gold

Measurements:
Total Length: 1.95"
Drop Length: 0.90"
Drop Width: 0.50"

Gemstones:
Emerald:
Cut: Oval
Color: Green
Quantity: 1
Total Weight: 2.43 Carat
Emerald:
Cut: Oval
Color: Green
Quantity: 1
Total Weight: 2.59 Carat
Diamond:
Cut: Pear
Quantity: 2
Color: F-G
Clarity: VS-SI
Total Weight: 0.33 Carat
Diamond:
Cut: Round
Quantity: 148
Color: F-G
Clarity: VS-SI
Total Weight: 1.10 Carat
Total Stones Average Weight: 6.45 Carat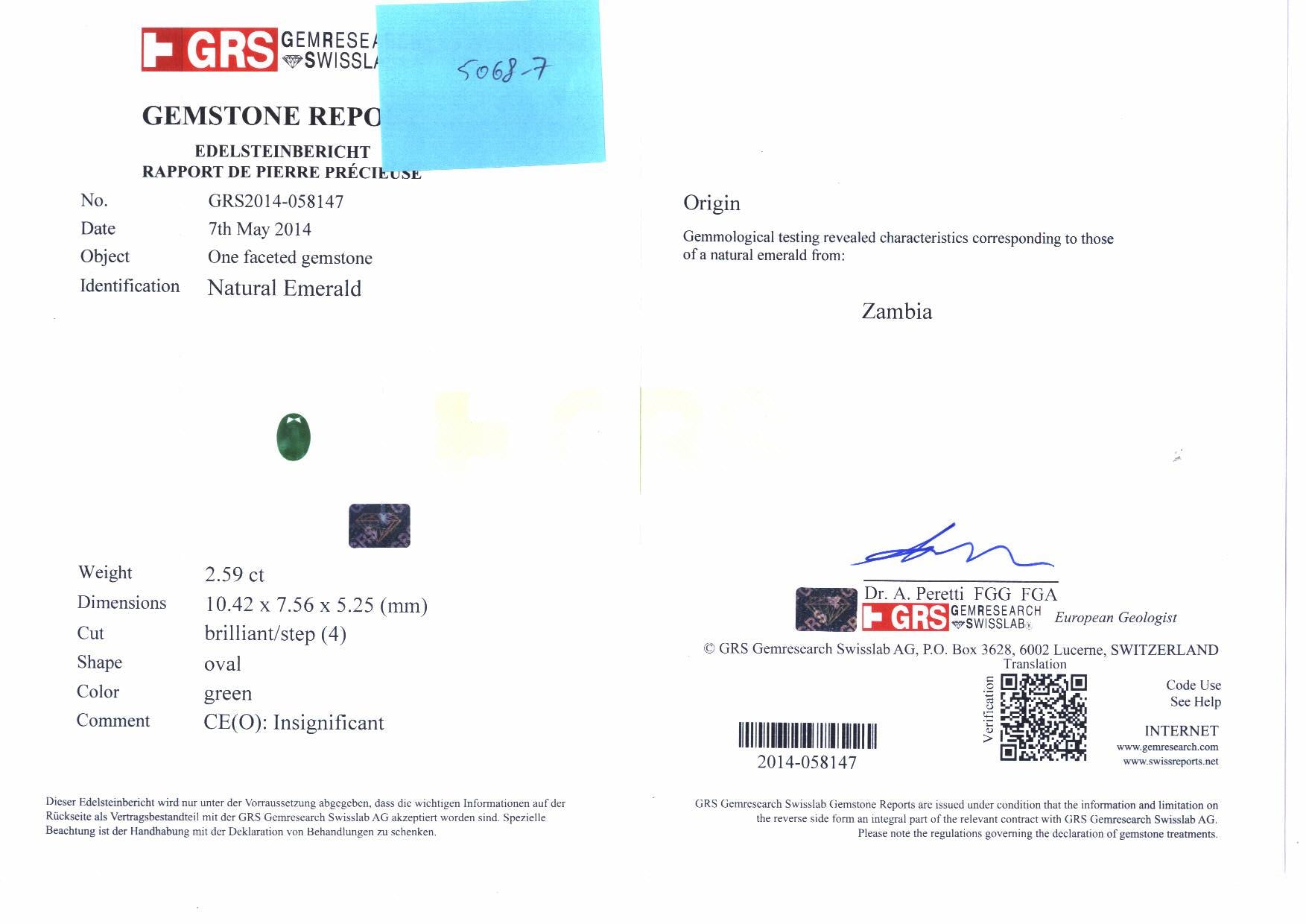 Book Your Exclusive Tour Inside Tel Aviv Diamond Exchange
Savransky Private Jeweler invites you to take a glance behind-the-scenes at the Tel Aviv Diamond Exchange. This place is famous for being one of the largest diamond trading complexes in the world. It includes, public offices, showrooms, workshops, and laboratories. The Diamond Exchange also contains production facilities for polishing diamonds, which can only be found here! Let us escort you through this hidden gem for what will surely be an unforgettable experience!
Schedule a Tour
Celebrate Life by Giving back
We want to give you a gift that will convey both a connection to the Holy Land as well as give back something meaningful to our suffering world whose resources we push to the limit. We've decided to plant a tree in Israel in your name or in honor of your loved ones for each purchase or order you will make at Savransky Private Jeweler.
Learn More
Support 24/7
Support 24 hours a day
Call +1-831-250-6724
Gift Wrapping
With your purchase, you will always receive a lifetime warranty, two Gemological Certificates- one for the center diamond as well as one for the finished piece, and an APPRAISAL certificate from Savransky Private Jeweler.